בנוכחות גדלות -In the presence of Greatness
I have deliberately waited a number of weeks before writing this article because I wanted to see how long the impressions of the Veteran Games and Conference would last, and I can honestly say that it feels as inspirational now as it did at the time.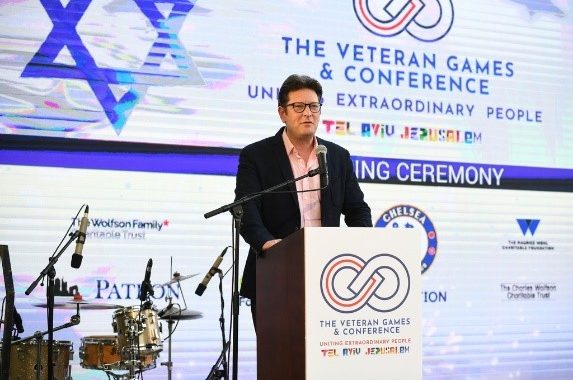 The initial hit was like nothing I had ever felt before, I was stunned and a little shocked, I wasn't in a boxing ring, I was in a swimming pool playing Water Polo against a group of wounded British and Israeli Veterans, but their commitment was unbelievable.
As an avid sports nut, I have always been inspired by watching the Para Olympics/ Invictus Games, but after sharing the water with these unbelievable athletes, I have a renewed, greater a sense of admiration for them. I truly was in the presence of greatness.
Beit Halochem Tel Aviv was the venue for the inaugural Veterans Games and Conference, that brought together over 120 wounded ex-servicemen and women along with their families and carers from Britain and Israel.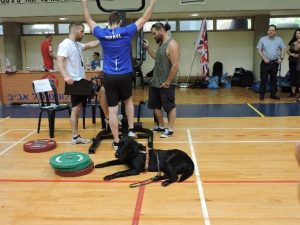 From the moment we arrived at Heathrow Airport and were met by the EL AL staff I felt that this trip was going to be special, I had no idea it would change my life.
The 6-day event was phenomenal, the staff from Israel Experience, that helped facilitate were incredible.  These were young men and women more accustomed to working with young people and families and here they were dealing with Veterans with physical and psychological injuries as if they had been doing it for years.  The Beit Halochem centres are unique rehabilitation, sports and recreation centres located in Tel Aviv, Haifa, Jerusalem, Beer Sheva and Ashdod.  These centres boast an array of exceptional rehabilitative services including physiotherapy, hydrotherapy and chiropractic treatments conducted along-side a vast array of social, specialised sports options, educational programmes and cultural activities.  They welcomed us with open arms!
The games were, as you would expect, inspiring. Swimming, cross-fit, shooting, archery, table tennis and wheelchair basketball.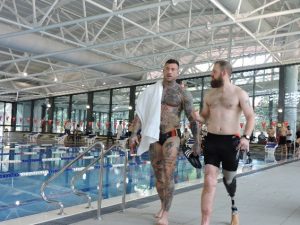 There are way too many individual stories and I am afraid to miss one out, so I will summarise by saying that watching wounded individuals from two different countries being supported by their families was an everyday highlight.
Almost every time I walked near a group of Israeli team members, I would be asked to sit down and talk with them and hear their stories. They would comment on the British teams' camaraderie, which considering we had Tri-Service individuals from all 4 Home Nations who had only met 48 hours earlier, spoke volumes.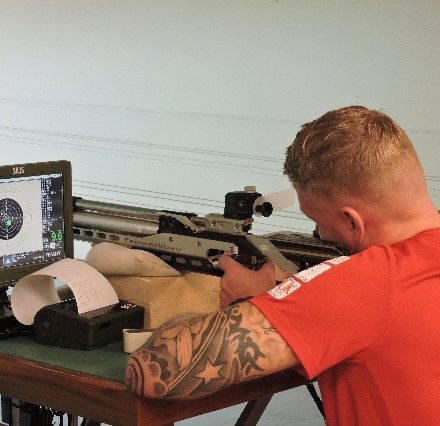 These Games were never about the Medal Table, it was about the Family, and watching young children supporting their Mum or Dad was very emotional.
Following the daily competitions, we were treated to several events and excursions that ensured we all fell in love with Israel.  From the walking tours of Tel Aviv (including a graffiti tour that I wish I went on!) to the visits to the Old City of Jerusalem, dinner overlooking the Judean Desert, Yad Vashem (The Holocaust Museum), the Biblical Zoo in Jerusalem and a chance to swim in the Dead Sea, everything was spectacular.
Everyone attended a very moving ceremony, led by a former Royal Marine at the British War Cemetery in Ramle and an equally emotional service at the Israeli Cemetery on Mount Hertzl. They reminded us of friends and family that had given their all in conflicts all over the world.
Meeting the families of the British team was a humbling experience. The devotion and commitment they show every day is inspiring. This event has once again highlighted the importance of bringing the families into the process of recovery and rehabilitation at an early stage.  They are without doubt the ones who will be the driving force to motivate their partners, husbands and wives.
Jeananne Ramsay who attended the Veteran Games as the carer for her son, Peter Ramsay, who was medically discharged from the army, said:
"I found the games both emotional and inspiring. It was an amazing trip full of sights and sounds. There are too many to mention. I was amazed by all the efforts and planning that went into the Veteran Games. We saw incredible determination and grit – the veterans gave their all to compete and support their fellow comrades.
 My own personal highlight, was the rabbi singing the prayer at the end of the service in Yad Vashem, I will never forget his voice full of emotion echoing in the silence."
 Running alongside the Games was an Israel-UK Conference on Armed Forces' and Veterans' Mental Health.  The 3-day conference focused around the themes of:
The needs of veterans and innovative treatment approaches.
Veterans and society.
Sports, competitions, physical and mental health.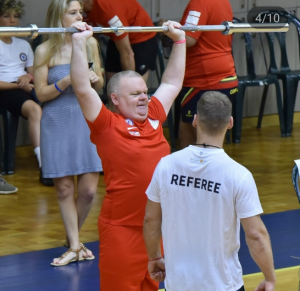 Providing the insights from the UK were King's College London, Queens University Belfast, University of Glasgow, NHS England, the Forces in Mind Trust and the Royal Marines Charity.  A report will be produced from the conference, but initial thoughts were that there was some excellent topics raised and the willingness to share ideas and good practice can only benefit the ex-servicemen and women.
Special thanks must go to Beit Halochem UK, The Charles Wolfson Charitable Trust, Chelsea Foundation, Wolfson Family Trust, The Maurice Wohl Charitable Trust, The Patron Charitable Initiatives, The Pears Foundation, the Exilarch Foundation and the Rachel Charitable Trust.
From a personal perspective I would also like to thank Beit Halochem Tel Aviv, especially Ora Seidner; the Israel Experience Team; Veterans Scotland; Legion Scotland; The Scottish War Blinded for nominating competitors and finally Steven Williams and Peter Ramsey for being fantastic ambassadors for Scotland and being so enthusiastic in everything that they did.
A busy and educational visit during which I have genuinely made some new friends from both teams, and as I stated at the start of this article, I firmly believe that I was in the presence of greatness!