GENERAL SECRETARY VISITS SCOTTISH VETERANS FUND RECIPIENTS
Jim Wilson, General Secretary of Veterans Scotland, spent a day in July visiting two organisations that received funding from the Scottish Veterans Fund to support the services they deliver.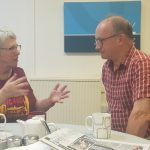 On arriving at The King's Church in Motherwell he met David Gibson from Fares 4 Free, an organisation that encourages the provision of free transport for veterans through taxi firms across Scotland. The SVF has funded a part-time post of Operations Co-ordinator with Fares 4 Free for two years. This increases their reach and collaboration with the taxi firms that willingly offer free transport for veterans with a need. When Jim arrived, David was busy on his phone organising transport for a disabled veteran, in a wheelchair to get from his home in Perth to the railway station then to Glasgow, a transfer between Glasgow stations and then on to London for an awards ceremony.
Once that was all sorted they went into the Veterans Club at the Kings Church (VC at the KC) who had also received funding to provide a weekly drop in centre for veterans in Lanarkshire. There were about 20 veterans enjoying each other's company and banter, as well as tea and cakes. This is a great opportunity to socialise with fellow veterans but, more importantly, also provides an opportunity to check that everyone is OK; if someone who usually attends isn't there they get called to check everything is alright. Where necessary people are helped to get to VC at the KC by Fares 4 Free – great integrated working.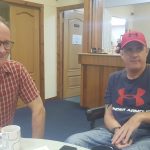 They then went to collect a veteran from Combat Stress's Hollybush House in Ayrshire where he had been taking part in one of their two week programmes. He was clearly benefitting from the programme and was clear that he would have had great difficulty getting there had it not been for Fares 4 Free. The benefits were clear to see.
Jim came away with a strong feeling that these organisations were working together well to support each other's aims and saw this as a great example of diverse organisations working together to support veterans. As part of the Unforgotten Forces consortium, funded by the Aged Veterans Fund, Fares 4 Free is also working with a wider range of organisations.