Graeme Dey, Minister for Parliamentary Business and Veterans meets military veterans making positive changes
Graeme Dey, Minister for Parliamentary Business and Veterans met with participants of Venture Trust's Positive Futures programme at the organisation's Head Office in Edinburgh, to hear how the scheme has helped them to make sustained positive change.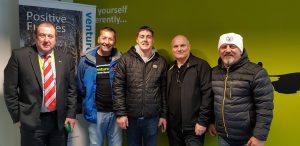 The meeting provided an opportunity for the veterans to discuss their experiences on the Positive Futures programme, and the impact it has had on their lives. It was also an opportunity for them to speak to Mr Dey about what is being undertaken Scotland-wide to support the small but significant number of ex-service personnel struggling with the transition to civilian life.
Positive Futures, funded by LIBOR (UK Government), comprises a three phase programme, including one-to-one and group work, and an intensive 7-day journey in Scotland's wilderness, where outdoor activity and experiential learning techniques are used as a mechanism for unlocking and redeploying skills, building confidence and raising aspiration. Following this journey, the participants, of all ages and length of service, are given support to achieve their goals. For many this will result in utilising the skills learnt in service, applying them to prepare for employment, education, training or volunteering.
These veterans are on their way to reaching positive destinations, working towards managing what can be very challenging life circumstances as a result of leaving the military behind. Their struggle to adapt to civilian life can often lead to homelessness, isolation, addiction, abuse, breakdown of family relations, and long term unemployment.
The programme creates a therapeutic environment where those participants with mental health issues (frequently part of a complex presenting set) can identify behaviour triggers and develop, and practice, coping strategies as a foundation for making and sustaining positive life changes.
The event took place at Venture Trust's head office in Edinburgh on 15 November. Mr Dey visited the office to meet with Venture Trust's Chief Executive Officer, Amelia Morgan, and to find out a little more about the work that is being done to help our ex-service personnel. Mr Dey was given a tour of the building, and then enjoyed coffee and cake where he was able to meet with the participants and talk to them about their own personal story.
Amelia Morgan, Chief Executive Officer at Venture Trust, comments, "We were delighted that Mr Dey met with us, which sent a really positive message of support to our participants – for those past, and those about to head out on the next Positive Futures journey. For all of those leaving the military, it marks a complete change. Most of those thrive, going on to have successful careers and balanced lives. But for a small minority the transition to civilian life can be overwhelming and confusing which can lead to a multitude of negative circumstances. The Positive Futures programme offers ex-service personnel the support and space to begin to see themselves differently – that they can have a different life."
Mr Dey said: "I was very pleased to have the opportunity to visit Venture Trust and learn more about their Positive Futures programme, and also to hear first-hand from those who are benefiting from it.
This is an excellent example of a charity offering support to our ex-service men and women by helping them learn new skills, regain their independence and to make positive changes in their lives."
Venture Trust's Positive Futures programme has just won the Institute for Outdoor Learning Supporting Health and Wellbeing Project Award. The award was for Venture Trust's work in the outdoors, and recognises schemes that are making a difference to individual and community quality of life.
For the past three years Positive Futures was funded by a grant of £689,453 from the Forces in Mind Trust. Over the course of the three years, an independent evaluation was undertaken and the results were released in November 2018. The report, commissioned by GAP Communications, highlights the significant improvement to participants' lives while also being cost-effective and high value for money. The programme has delivered overall benefit impacts to society in the region of £2.6m to £4m; for every £1 spent, £4.56 of societal benefit impact has been generated.
For further details of the Venture Trust's Positive Futures programme, visit: http://www.venturetrust.org.uk/programmes/positive-futures-programme/
ENDS
Note to editors
For more information please contact Venture Trust Communications team:
Jessica Whistance  jessica@venturetrust.org.uk M: 07748 635 869 or
Neil Ratley neil@venturetrust.org.uk M: 07557 392722
Venture Trust senior staff and Positive Futures participants are available for interview. Venture Trust can also facilitate time on the wilderness journey for journalists.
About Venture Trust
Venture Trust believes that people have the ability to make positive changes in their lives for a more productive future. Venture Trust supports people who are struggling with complicated life circumstances such as being 'looked after' by Local Authorities, involvement in offending, homelessness, drug and alcohol misuse, caring responsibilities and other complications in their lives.  These situations are often compounded by lack of access to services or low educational achievement, leaving them isolated, marginalised or in poverty. Venture Trust offers a three-phase personal and social development programme, working in communities across Scotland. The programme involves an intensive wilderness-based element, mentoring, and employability support which aims to help people unlock their potential. This may be better communication skills, consequential thinking and building positive relationships with others, growing in confidence and self-esteem, or moving towards education, training and employment.
Useful links
Website: www.venturetrust.org.uk
Twitter: twitter.com/venturetrust
Facebook: https://www.facebook.com/VentureTrust/