HRH The Princess Royal re-opens newly refurbished Lady Haig Poppy Factory
Her Royal Highness The Princess Royal popped into Lady Haig's Poppy Factory in Edinburgh this morning (Thursday 19th January) to officially re-open the campus following a two-year refurbishment.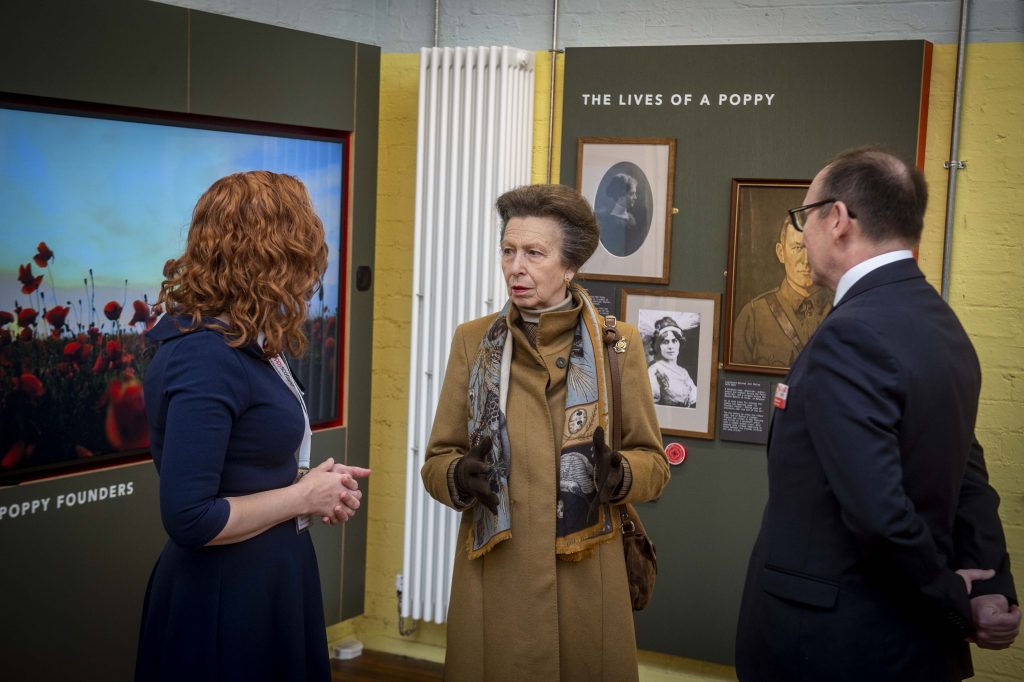 Her Royal Highness toured the factory and its new exhibition space, and chatted to staff, before visiting Poppyscotland's mobile museum, Bud.
The factory, founded in 1926, will now re-open to visitors and school groups following the project to showcase its history and heritage. Thirty-three disabled veterans work in the factory on Logie Green Road, making more than three million poppies each year for the Scottish Poppy Appeal, as well as wreaths and other tributes.
Her Royal Highness was met by the Deputy Lord-Lieutenant of the City of Edinburgh, Brigadier Dr John Reid Thomson, who is also chair of the factory, Poppyscotland's President, Rear Admiral Mark Beverstock, Helen Owen, chair of Poppyscotland, and factory manager, Major Charlie Pelling.
David Adamson, a wreath maker and tour guide, who served for 22 years with the Royal Highland Fusiliers, gave her a tour of the factory, introducing the team.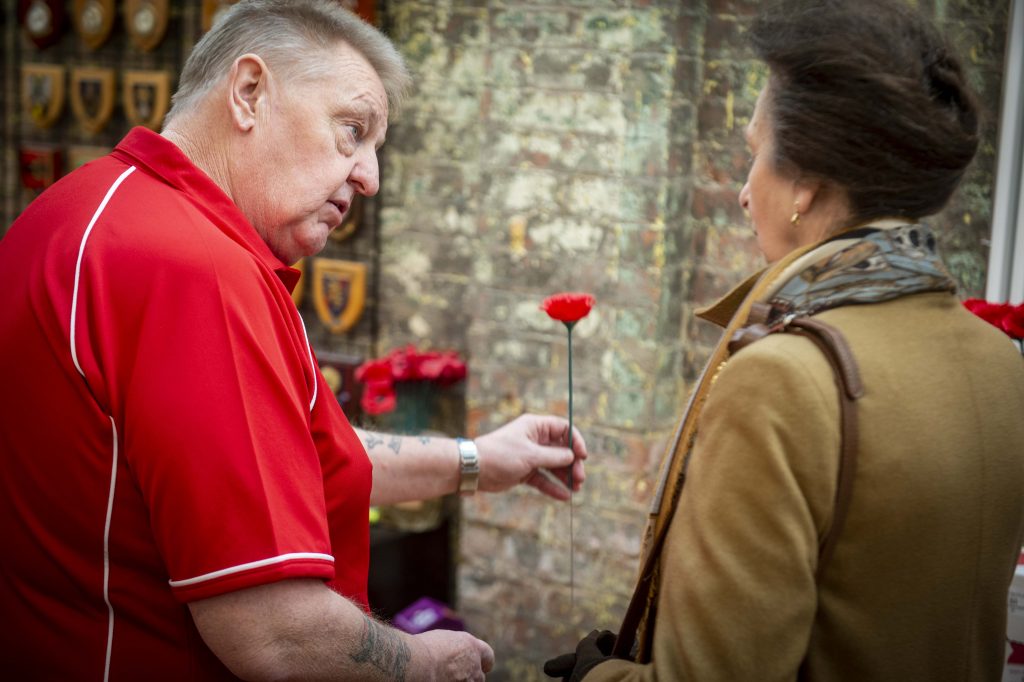 During her visit, she spent time talking to the veterans about their experiences and the different stages of making poppies and wreaths. She signed a "reflection postcard" which will form part of a wall display in the factory.
She also met Summer Saunders and Kate Miller, both 17, from Ayr, who designed a silk red poppy dress as part of the "Junk Kouture" sustainability project and Sophie Henderson, 14, from Ayrshire, who won Poppyscotland's 2020 poetry competition with her poem "In Future Fields", a response to John McRae's 1915 "In Flanders Fields".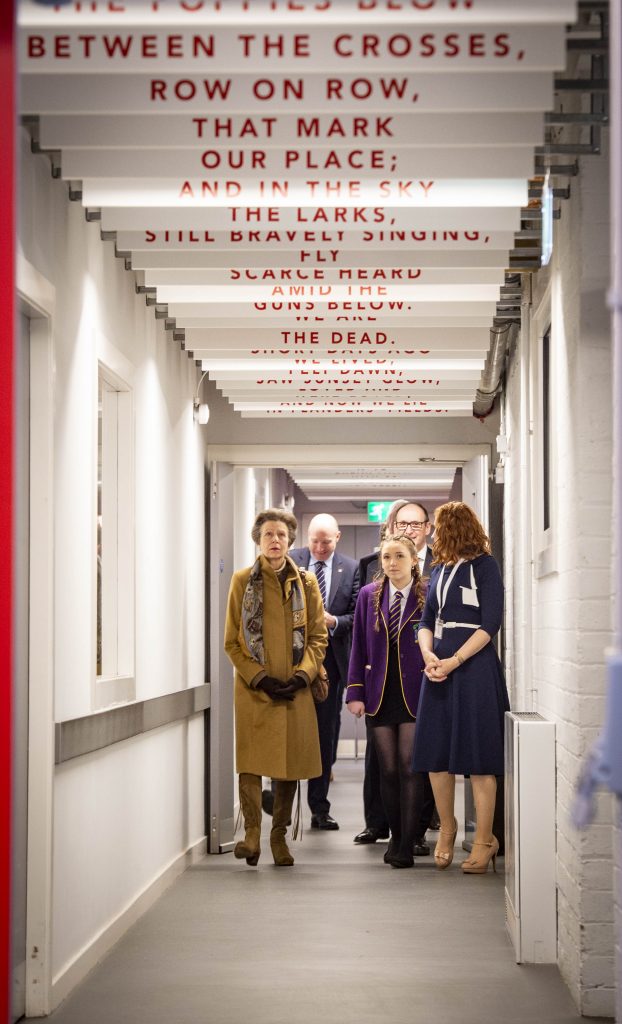 Her Royal Highness then toured Bud, the 18-tonne truck which transforms into a micro-museum, that has now travelled to every local authority in Scotland.  She unveiled a plaque before being presented with a framed copy of both poems by Ms Owen.
Poppyscotland's Director, Austin Hardie, said: "We were honoured to welcome Her Royal Highness The Princess Royal to officially re-open our newly refurbished factory and campus today.  This is the culmination of two years of hard work to ensure we have a modern facility dedicated to supporting Scotland's veterans' community.
"We are very proud of our heritage, and this marks an exciting new chapter in the factory's 97-year history. We are looking forward to welcoming school groups and the wider public to the factory and exhibition space, telling the story of the poppy to new generations."
Ms Owen said: "We are very grateful to Her Royal Highness for taking the time to meet the team involved in this exciting project, as well as her continued support for our Armed Forces community.
"The veterans enjoyed showing her how poppies and wreaths are hand-made using traditional methods, and explaining the unique history of the factory."
Mr Adamson said: "She was very interested in everything, and took the time to speak to as many of the guys as possible. She also noticed the big difference from last time she visited."
To find out more about Lady Haig's Poppy Factory or book a tour, www.poppyscotland.org.uk/lady-haigs-poppy-factory.