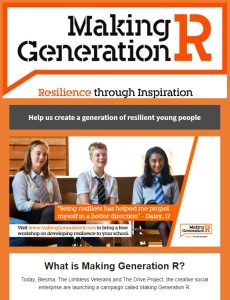 Making Generation R is a campaign from Blesma, the charity for limbless veterans, and The Drive Project, the creative social enterprise. Together, Blesma and The Drive Project use theatre professionals to train limbless veterans to deliver resilience workshops based on their own stories of overcoming adversity.
This year, Blesma and Drive are focusing the workshops on secondary school students, and have launched a campaign called Making Generation R, which reflects our ambition to help create a generation of resilient young people, and which aims to raise awareness of the need to teach resilience differently. The campaign trains limbless veterans to turn their personal stories of overcoming adversity into inspirational talks which then become the focus of free resilience workshops in secondary schools. So far we have reached 20k students and aim to reach a further 30k by the end of 2019.
We have historically had great success in schools with our workshops and the renewed focus on education this year is because although the Government recently introduced teaching resilience as part of PSHE, teachers tell us that they often lack time, resources, or sometimes feel ill-equipped to deal with some of the more complicated problems their students might face.  (Blesma has done a survey with YouGov amongst teachers to verify this).
Through the Making Generation R campaign we want to help more young people to be more resilient when they face difficult situations. One of the most effective ways to encourage resilience is through inspiration from others that have overcome their own difficulties.