Poppy Quest challenges walkers to discover Edinburgh's hidden gems
Young detectives have dusted off their maps and magnifying glasses for a 10k treasure hunt around Edinburgh's city centre.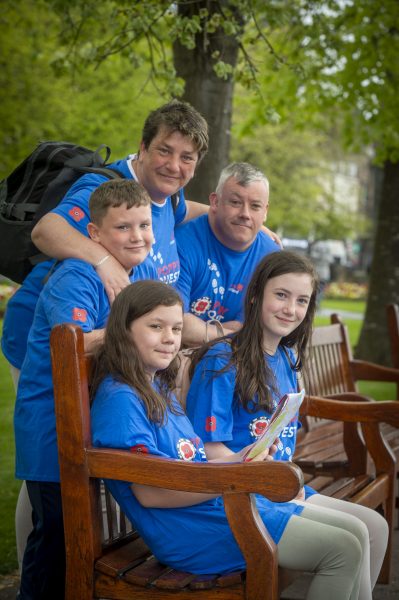 Veteran Fraser Rowand, from Granton, joined Poppyscotland to launch its first ever Poppy Quest, with his wife Susan, and children Rebecca, 11, Lucy, 10, and George, 8,
They are challenging people of all ages to test their observation skills and ingenuity – as well as their legs – and rediscover their city, while supporting Scotland's Armed Forces community.
The event takes place on Saturday 11 June  and is open to individuals, groups and families. Walkers will be provided with a map and a series of questions to navigate a route around the city.
There will also be a special competition for teams of cadets, with a trophy for the fastest time with all questions answered correctly.
All funds raised will go to support Poppyscotland's work, providing advice and support to former and current servicemen and women and their families.
Mr Rowand, a former Lance Corporal in the Scots Guards, served two tours of Afghanistan, and now works in Lady Haig's Poppy Factory, in Edinburgh.
He said:
"The services Poppyscotland provides are really vital. Many veterans find it hard to adjust to 'Civvy Street', so we need to make sure support is there when they need it.

"We're really looking forward to Poppy Quest – it's a great way to spend time together and see Edinburgh in a new light."
Gordon Michie, Poppyscotland's Head of Fundraising, said:
"Poppy Quest Edinburgh is set to be a fantastic day out and a chance to rediscover this great city. We're encouraging families, groups and individuals of all ages to challenge themselves, stretching their minds and legs and finding hidden gems along the way.

"Starting in beautiful Princes Street Gardens, you can take your time, enjoy the scenery and architecture, and perhaps even enjoy a picnic en-route. Participants are welcome to bring their four-legged friends as well.

"Intrepid teams of cadets can also join the race against the clock to complete the course with all questions answered correctly.

"All funds raised will go to support our life-changing work with Scotland's Armed Forces community. As we emerge from the pandemic, veterans and their families need support more than ever, whether that's with housing, employment, or mental or physical health.

"No one who has served their country should be disadvantaged, and we want to make sure Poppyscotland is always there when they need us."
Registration costs are £16 for adults and £5 for 13-18 year olds, while children aged 12 and under are free. All participants will receive a Poppy Quest medal, t-shirt, map and quiz, as well as a unique pin badge for those who raise over £100. For more information visit www.poppyscotland.org.uk.