Scottish Parliamentary Election – Hustings on the Armed Forces and Veterans Community 21 April at 2:30pm
Ladies and Gentlemen,
On 21st April at 2:30, Veterans Scotland will be hosting a virtual hustings on-line; we believe that this is the first event of this type that will focus on the Armed Forces and Veterans Community. The event will take the form of an MS Teams Live Event.
The main political parties in Scotland have been invited to present their perspectives on the Armed Forces and Veterans Community. The attached flyer shows those who have agreed to speak so far.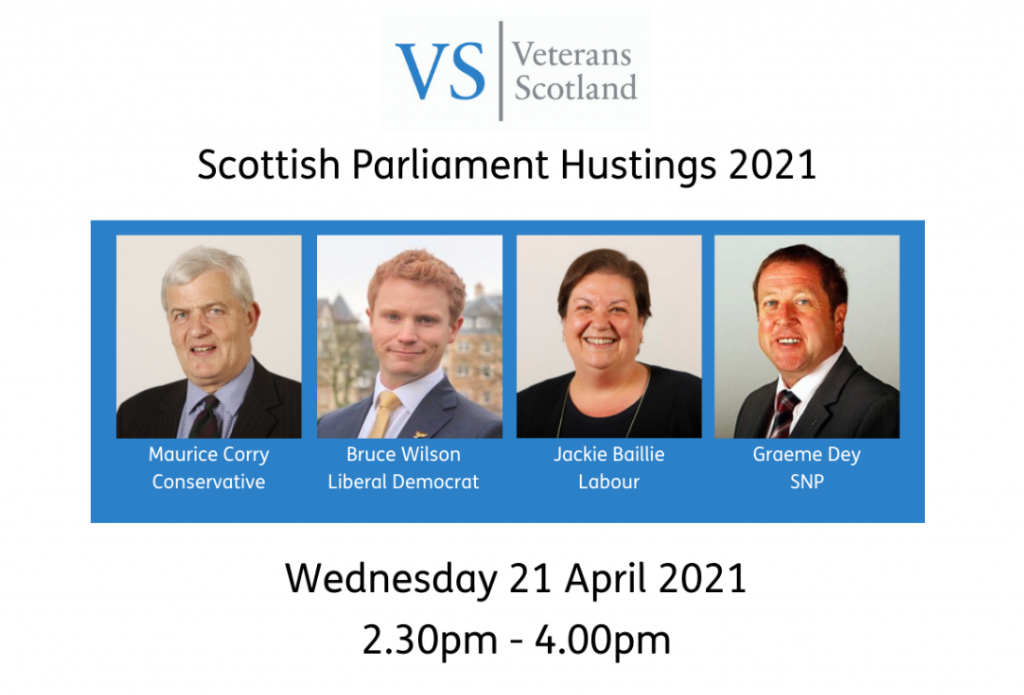 Should you have any questions you would wish to be put to the Parties in advance of the meeting, please send them to me at gensec@veteransscotland.org.uk by Friday 16th April. The 'chat' feature on Teams should enable questions to be raised during the meeting. Whilst Defence is a reserved matter, there are many issues that affect the Armed Forces and Veterans Community for which the devolved administration in Scotland has responsibility; it is the latter that we are expecting to focus the discussions on.
Should you wish to attend on the day, please follow the link below; please feel free to share this link more widely.
https://teams.microsoft.com/l/meetup-join/19%3ameeting_ZTRkODVjNjUtOTZlZi00ZTNjLWE1N2YtY2M2M2RiZmViNGYy%40thread.v2/0?context=%7b%22Tid%22%3a%229c1b9916-6290-453f-a1c3-a60f22a79bc0%22%2c%22Oid%22%3a%226824adb0-562b-44be-8a5b-b8564f721fa3%22%2c%22IsBroadcastMeeting%22%3atrue%7d&btype=a&role=a
I am grateful for the assistance in bringing this event together from all members of the VS Public Policy Group, but in particular to Ross Thomson of Poppyscotland, Richard Baker from Sight Scotland Veterans and John Williams from The Royal British Legion.