Scottish Soldiers-World War 2 Memories
In September, The Royal Scots launched a film which captures the experiences of our WW2 veterans and their families.
The Film was the initiative of the small team of volunteers that are determined to capture, virtually,  the Heritage of The Royal Scots 373 Years of Unbroken Service so that the story is available in the years ahead and never forgotten. It has a particular purpose of achieving inter- generational communication. At this time of Remembrance RS373 is particularly poignant. The Film can be viewed at: www.theroyalscots.co.uk
In August 2018, as Commemoration of the 100th Anniversary of Armistice Day in November approached, working closely with the Scottish National War Memorial and the Commonwealth War Graves Commission and  in partnership with the Computer Science Department of the University of St Andrews we published, online, our World War 1 Roll of Honour. Then in June 2019, as the 80th Anniversary of the Outbreak of World War 2 in early September approached, we posted The Royal Scots World War 2 Roll of Honour online. These widely acclaimed initiatives can be visited at www.theroyalscots.co.uk.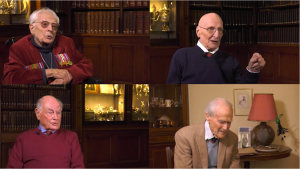 Parties from two Edinburgh schools attended the Film launch. They came equipped with lists of names of Royal Scots that appear on their war memorials. After the showing of the Film the children and their accompanying staff were able to go online at www.theroyalscots.co.uk  and research those from their schools who had laid down their lives for King and Country in the two World Wars. The Rolls of Honour give details, interactively,  of: where the soldier lived before joining The Royal Scots, where they were killed and which Battalion they were serving with, any Museum in Edinburgh Castle archived material ( eg war diary extracts, photographs, citations)  and also where they are buried with photographs of the cemetery and gravestone.