Trellis calls out for votes to bag a share of Tesco's community fund
Trellis are bidding to bag a massive cash boost from the Tesco Bags of Help Centenary Grant initiative.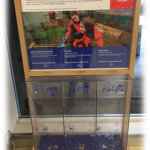 To celebrate Tesco's Centenary, the supermarket has teamed up with Groundwork to deliver a special voting round of its community funding scheme, which will see grants of £25,000, £15,000 and £10,000 awarded to local community projects. greenspace Scotland is working with Groundwork to provide support to communities in Scotland.
Three groups in each Tesco region have been shortlisted to receive the cash award in the South of Scotland region and shoppers are being invited to head along to Tesco stores to vote for who they think should take away the top grant. Even if you don't live in the areas that will benefit, please let friends and family who do, know that Trellis is one of the groups on the shortlist.
The funding will go to our project "Growing Better through Gardening" to support local people in the South of Scotland to improve their lives through gardening.
Fiona Thackeray, Head of Operations at Trellis, said:
"A contribution of this amount will have a huge impact on the support we can offer disabled and disadvantaged people in East Ayrshire, South Ayrshire, Dumfries & Galloway, Scottish Borders, East Lothian and Midlothian. Our support will enable hundreds of people dealing with difficult circumstances to improve their lives through gardening.  We are thrilled to be among the charities in the running for an award and appreciate every vote from Tesco customers."
Over the years Trellis has provided considerable hands-on gardening support in the South of Scotland to a variety of people and projects: vulnerable young people at Park School, Kilmarnock; young people living with cancer and life altering illnesses and their families at Whiteley's Retreat in Ayr, Young Carers in East Ayrshire, care home staff and residents throughout the area, Crosshouse Hospital paediatric ward, HMP Dumfries, people living with dementia in Dumfries and many more. This award will enable the charity to help even more people in this area.
Voting is open in all Tesco stores throughout October, November and December. Customers will cast their vote using a token given to them at the check-out in store each time they shop.
Bags of Help project has already delivered over £75 million to more than 25,000 projects across Britain. Tesco customers get the chance to vote for three different groups every time they shop. Every other month, when votes are collected, three groups in each of Tesco's regions will be awarded funding.
Tony McElroy, Tesco's Head of Communications in Scotland, said:
"Bags of Help contributes funds to community projects up and down the country and we've been overwhelmed by the response from customers voting in their local stores. We're looking forward to seeing more projects brought to life."
Emma Halliday, Community Enabler Coordinator at greenspace scotland, said:
"Bags of Help continues to enable local communities up and down Britain to improve the local spaces and places that matter to them. The diversity of projects that are being funded shows that local communities have a passion to create something great in their area. We are pleased to be able to be a part of the journey and provide support and encouragement to help local communities thrive."
Funding is available to community groups and charities looking to fund local projects that bring benefits to communities. Anyone can nominate a project and organisations can apply online. To find out more visit www.tesco.com/bagsofhelp.
ENDS
Notes to editors:
So far Bags of Help has awarded £75 million to more than 25,000 community projects.
For more information please visit: www.tesco.com/bagsofhelp.
For more information about Trellis visit: www.trellisscotland.org.uk or call Fiona on 01738 624348