AFCFT helps military charity alleviate loneliness and isolation
The Armed Forces Covenant Fund Trust (AFCFT) has provided SSAFA, the Armed Forces charity with financial assistance to help alleviate loneliness and isolation in serving personnel and their families throughout the UK and the rest of the world.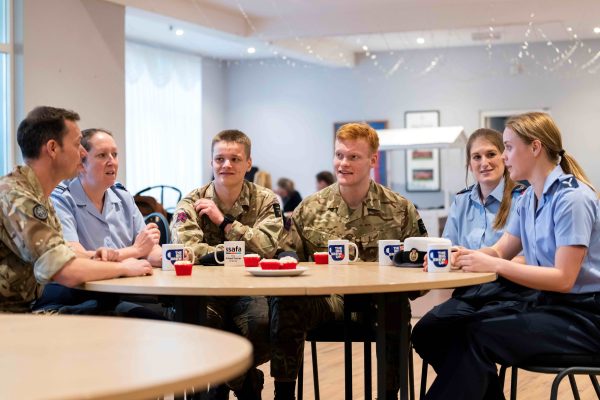 Over the last two years the AFCFT has donated £80,000 that has enabled the establishment of SSAFA's Community Connection Champion (CCC) project and its continued roll out to UK military establishments worldwide from Birmingham to Brunei.
The CCC initiative trains volunteers to identify and act on need in their local area. Often, but not always, these volunteers are from the military community. They are active in designing and initiating activities that support the serving person and any accompanying family.
One military spouse from North Yorkshire said:
"I have moved all over Europe in the last decade. It's sometimes hard to make friends and fit in especially if you don't have children. Going to a wreath-making class or joining a dog-walking club is helpful to stop you feeling horribly lonely."
It is not just spouses who often feel isolated. Mental health issues can be exacerbated by isolation, which can be particularly true for young service people posted a long way from home.
An RAF Wyton Community Connection Champion said:
"I've only been in the Army for a few years and it was really hard when I first started because I was away from my family and friends and everyone around me were strangers. I was 17 and lonely. A couple of times I considered quitting because I felt so isolated. People around me were struggling even worse than I was. The thing that made a difference for me was getting out of my room and doing things on a weekend.

"So I decided to become a SSAFA CCC to help other people feeling like I did. I'm organising events and getting people to interact and get together at weekends to have some fun."
SSAFA's Community Connection Champions have set up all sorts of activities from hill walks to reading groups.
Suzette Leach, SSAFA's CCC lead, said:
"So far we have recruited 32 volunteers who have been trained to become CCCs in 18 local serving communities in the UK and overseas. Their impact has been immeasurable. Many of the beneficiaries have been single serving personnel, who often spend their evenings alone in their single-person bedroom and have few social activities available to them. It is vital that they are supported to connect with their community and enabled to make new friends.

"SSAFA is grateful to the AFCFT for their continued support; we could not have set this initiative up without their input."
If you are interested in becoming a Community Connection Champion for your local serving community visit ssafa.org.uk/community-connection-champion