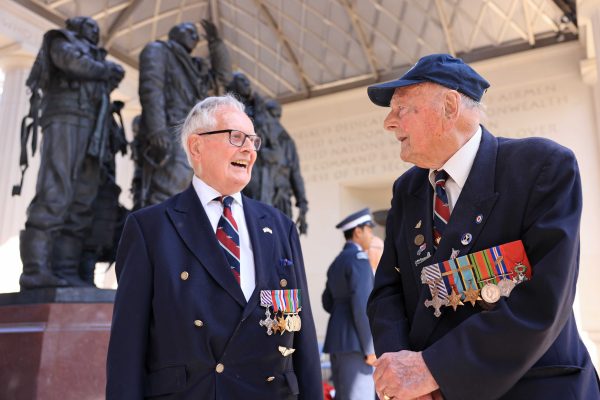 Caption: WW2 veterans Colin Bell and George Dunn at the Bomber Command Memorial in Green Park. Credit: Oliver Dixon
The RAF Benevolent Fund, the RAF's leading welfare charity, will be holding a unique event whereby Second World War veterans Former Flight Lieutenant Colin Bell (DFC AE FRICS), and Former Flight Lieutenant George Dunn (DFC LdH) will discuss their wartime experiences flying the iconic Mosquito.
Both Colin, 102, and George, 101, will be interviewed by historian Steve Darlow about their experiences in the War, and will also discuss their time at Downham Market, Norfolk. Additionally, a unique painting will be unveiled at the event with the opportunity to purchase a limited number of prints that have been signed by a few remaining Mosquito pilots.
The event will take place at the De Havilland Aircraft Museum in London Colney, Hertfordshire, with the aim to raise money for both the museum and the RAF Benevolent Fund.
Colin, from Royal Tunbridge Wells, was born in 1921 and joined the RAF towards the end of 1940. His flying training was carried out in America prior to their entry into War (before the Japanese attack on Pearl Harbour) in December 1941. Colin carried out 50 bombing raids over Germany, including 13 over Berlin.
George, a pilot during the Second world War, flew Mosquitos and Halifax bombers, completing 44 operations. He continued his flying after the end of the war, and as a test pilot flew a number of different aircraft including the Spitfire.
Hannah Bower, Philanthropy Manager at the RAF Benevolent Fund, said:
"This event will be a unique opportunity to watch two extraordinary Second World War veterans talk about their wartime experiences. We encourage members of the public to purchase a ticket to witness this wonderful and rare event, while also raising vital funds for the RAF Benevolent Fund, enabling us to continue providing practical, emotional or financial support for the RAF Family, whenever it is needed."
Tickets are available to purchase here.
Event details: The event will take place 12:00-17:00 on 28 November 2023 at the De Havilland Aircraft Museum, London Colney, AL2 1BU.